To meet re-licensure requirements in Louisiana, COPE approval of CE courses in not necessary. All CE courses will be submitted for posting on your profile page of the Louisiana State Board of Optometry Examiners website, as well as on OE Tracker. However, all courses will be listed as NON COPE. Louisiana has opted to forego the onerous requirements set forth by ARBO for CE programs; therefore, even though a speaker may present a course which COPE has approved, ARBO will not give COPE approval for that same course presented in Louisiana. If you are applying for re-licensure in other states, it is your responsibility to verify that CE hours obtained in Louisiana (which will all be listed as NON COPE) will count toward your re-licensure.
---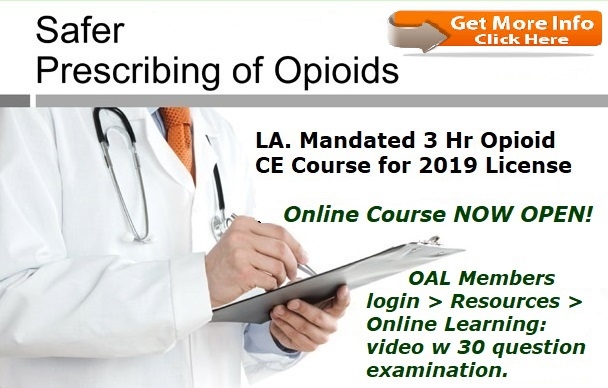 ---
SECO 2019
February 20-24, 2019
New Orleans, LA
SECO 2019
– will be held Feb 20-24, 2019 in New Orleans! Due this excellent opportunity for our members, the OAL will not be having a Mid Winter Meeting in 2019.

SECO

2019 is the first event of the year to discover the latest innovations and advancements that are transforming the eye care industry.

Plus, OAL members receive $50 off the Summit, Premium and Congress registration packages.





At

SECO

2019, you'll have access to the unparalleled learning and networking opportunities that

SECO
's annual event is known for and take advantage of new features, including outside-the-classroom education sessions, interactive exhibits on the show floor and a new location—exciting and vibrant New Orleans!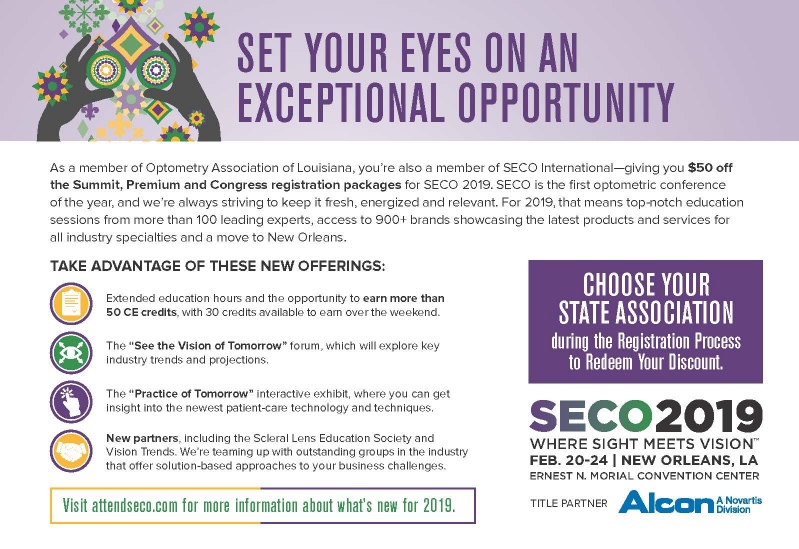 ---
2019 Annual Convention
June 13-16, 2019
Baton Rouge, LA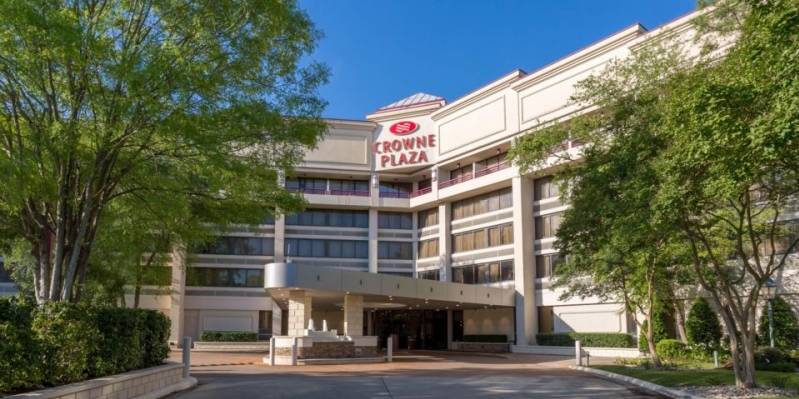 Crowne Plaza : Executive Center Baton Rouge
4728 Constitution Avenue
Baton Rouge, LA
Hotel Front Desk :
225-925-2244
16 Hrs OD CE / Paraoptometric CE
16 HRS OF TPA CE FOR ODs, featuring: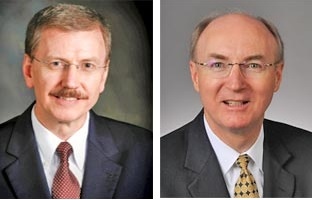 Drs. Randall Thomas & Ron Melton

COURSES:
The State of Therapeutics in Eye Care
(Parts 1 & 2)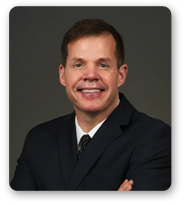 Dr. David K. Talley

COURSES:
Injectable Medications in Primary Eye Care
Minor Surgical Procedures in Primary Eye Care
Innovations and Future Technologies in Eye Care









Dr. Steve Ferrucci

COURSES:
Refer or Relax Retina
Diabetes Treatment and Management
Nutrition and the Retina
Fluorescein Angiography New vs. Old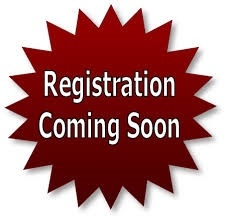 ---
2020 Annual Convention
June 4-7, 2020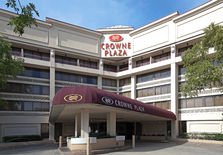 Crowne Plaza : Executive Center Baton Rouge
4728 Constitution Avenue
Baton Rouge, LA
Hotel Front Desk :
225-925-2244
16 Hrs OD CE / Paraoptometric CE
Friday Night Exhibit Hall
Showcase of Vendors throughout the weekend
"Eye Rollers" Family Game Night (Saturday)
Speakers TBA
---
2021 Annual Convention
June 2-6, 2021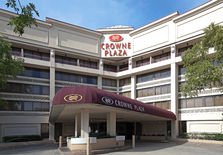 Crowne Plaza : Executive Center Baton Rouge
4728 Constitution Avenue
Baton Rouge, LA
Hotel Front Desk :
225-925-2244
16 Hrs OD CE / Paraoptometric CE
Friday Night Exhibit Hall
Showcase of Vendors throughout the weekend
"Eye Rollers" Family Game Night (Saturday)
Speakers TBA