AOA Advocacy Earns National Recognition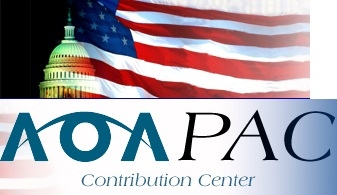 December, 2018
Dear Advocacy Volunteers,
We're very pleased to share the good the news that the AOA has just earned national recognition as one of the top advocacy organizations in the country with the our own Matt Willette and Chase Cannon being named on Friday as top lobbyists in Washington, DC, according to The Hill, a Capitol Hill publication that covers Congress, the Trump Administration and national politics. This award makes clear that the AOA is viewed in the nation's capital as an advocacy leader, and that through these very tumultuous times we are delivering for our members.
https://thehill.com/business-a-lobbying/top-lobbyists/421128-top-lobbyists-2018
We especially want to share with you that Matt and Chase reacted to this news by pointing out that the Rodney, Kara, Daniel, Deirdre and all of Team AOA -- who under our approach all contribute so tremendously on every issue -- should rightly have been listed too. Also, they noted that their efforts are a direct reflection of the hard work and relentless commitment to winning advocacy of the Board, volunteers and the entire AOA staff, both in St. Louis and Alexandria. We couldn't agree more.
As The Hill explains, through their AOA work, Matt and Chase are among "the most distinguished and accomplished professionals from the influence world who are on the front lines of the nation's most consequential political and policy battles...The nation's capital is teeming with lobbyists and influencers, but when the stakes are at their highest, these are the players at the top of their game, known for their ability to successfully navigate the byzantine and competitive world of federal policymaking."
We want to extend our congratulations and deepest thanks to you and every member of Team AOA. You have taken on an especially important and demanding role in advocacy and can be very proud of the difference you're making.
Jon & Renee