American Opt Student Association
The American Optometric Student Association (AOSA) is the premier student optometric organization. We advocate for the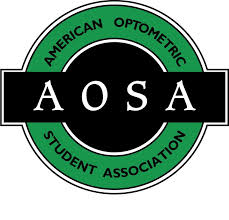 health of our communities through advancing the profession of optometry on a global scale.
The AOSA is committed to promoting the optometric profession, enhancing the education and welfare of optometry students, as well as enhancing the vision and ocular health of the public. This website is designed to provide information to future, current and past students of optometry.
The AOSA represents more than 6,200 students attending the 23 schools and colleges of optometry throughout the U.S., Canada, and Puerto Rico. Each school has a unique AOSA chapter which works hard to raise thousands of dollars for community outreach and dedicates hundreds of hours in community service. Each school is represented on the AOSA Board by a Trustee and Trustee-Elect. These individuals are some of the hardest working optometry students at all the schools. They have a deep passion for optometry and work to keep students informed about issues important to aspiring optometric physicians. Most importantly, these individuals work to be a channel of communication between the schools and the AOSA.
No one is a better resource at the individual schools than your trustees. We are here to serve you and make are profession stronger and more robust. The profession of optometry offers endless opportunities to the students of the AOSA. Please stand united with us and join in being an Active member of our association!
James Deom, President
Pennsylvania College of Optometry at Salus University
Class of 2014