Welcome to the Optometry Association of Louisiana
The Optometry Association of Louisiana (OAL) is a group of state-licensed optometrists who deliver primary eyecare to citizens in all parts of Louisiana. Over 300 members strong, the organization provides continuing education programs for its doctors, sponsors programs to improve eyecare in Louisiana and abroad, and represents Louisiana nationally at optometric programs and events. The OAL also promotes legislation to insure all Louisiana citizens have access to quality eyecare.
What is a Doctor of Optometry?
Doctors of Optometry (O.D.'s) are the independent primary health care professionals for the eye. Optometrists examine, diagnose, treat, and manage diseases, injuries, and disorders of the visual system, the eye, and associated structures as well as identify related systemic conditions affecting the eye. (American Optometric Association) Doctors of Optometry also diagnose associated systemic conditions; prescribe oral and topical medications (e.g. antibiotics, antivirals, anti-inflammatories, & pain relievers, among others); perform minor surgical procedures on and around the eye; order and interpret blood work and neuro-imaging (such as MRI, CAT scan, etc.); offer vision therapy and vision rehabilitative services; fit contact lenses; and prescribe eyeglasses. For more information, please browse this site and visit the American Optometric Association's website at www.aoa.org.




Southwest Louisiana's own Gumbeaux Gator welcomes some of the Optometrists to the OAL Fall CE Conference, held in Lake Charles, LA on October 31, 2015. Despite horrible weather, ODs & Paras came out to learn more about compliance issues and ICD-10, and hear some great case presentations by Joe DeLoach, OD, FAAO and the TOA's Executive Director, BJ Avery. Next CE meeting will be the OAL Mid Winter Conference, Saturday, February 13, 2016 in Lafayette at the Doubletree (formerly the Lafayette Hilton).




ICD-10 coding is officially here! OAL members may click here to visit our ICD-10 Resource Page with helpful information.
Johnson Receives Lifetime Achievement Award
Sandefur Celebrates 50 Year Class Reunion @ SCO
SCO Presents Awards during Homecoming Weekend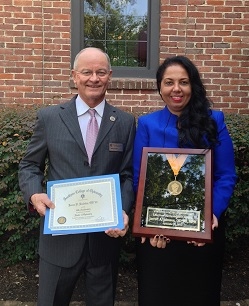 OAL Optometrist & SCO Board of Trustees member
Jarrett Johnson, OD '90
, MPH - pictured with OAL Executive Director,
James D. Sandefur, OD '65
- received SCO's 2015 Lifetime Achievement Award. Dr. Sandefur celebrated his 50 Year Class Reunion at SCO. Both were recognized during Southern College of Optometry's Homecoming 2015.
Jarrett Johnson, OD, was presented SCO's highest award bestowed on alumni, which recognizes significant contributions to the profession of optometry. A former SCO Board chair, Dr. Johnson is a Past President of the New Orleans Optometric Society of the OAL. She has served in numerous public service roles throughout the New Orleans area, where she's celebrating 25 years of practice. Dr. Johnson also co-chaired SCO's "Envision Our Progress" campaign with
James Sandefur, OD '65
. Learn more about Dr. Johnson's career accomplishments in this
news release
about her award.