Welcome to the Optometry Association of Louisiana
The Optometry Association of Louisiana (OAL) is a group of state-licensed optometrists who deliver primary eyecare to citizens in all parts of Louisiana. Over 300 members strong, the organization provides continuing education programs for its doctors, sponsors programs to improve eyecare in Louisiana and abroad, and represents Louisiana nationally at optometric programs and events. The OAL also promotes legislation to insure all Louisiana citizens have access to quality eyecare.
What is a Doctor of Optometry?
Doctors of Optometry (O.D.'s) are the independent primary health care professionals for the eye. Optometrists examine, diagnose, treat, and manage diseases, injuries, and disorders of the visual system, the eye, and associated structures as well as identify related systemic conditions affecting the eye. (American Optometric Association) Doctors of Optometry also diagnose associated systemic conditions; prescribe oral and topical medications (e.g. antibiotics, antivirals, anti-inflammatories, & pain relievers, among others); perform minor surgical procedures on and around the eye; order and interpret blood work and neuro-imaging (such as MRI, CAT scan, etc.); offer vision therapy and vision rehabilitative services; fit contact lenses; and prescribe eyeglasses. For more information, please browse this site and visit the American Optometric Association's website at www.aoa.org.
Baby sees parents clearly for first time
Optometrists underscore the importance of infant and early childhood eye exams
It's an emotion often only shared between optometrist and patient—that thrill of seeing clearly for the very first time.
The video of 10-month-old Piper's amazed reaction to seeing her parents clearly for the first time has gone positively viral, taking the message of InfantSEE® and the importance of children's eye exams along with it.
But to optometrists who know the importance of eye exams conducted on very young children, Piper's response isn't unfamiliar. Josiah Young, O.D., of Newport, Kentucky, was doing what he has done dozens of times before as an InfantSEE provider when he diagnosed Piper's hyperopia and prescribed corrective spectacles. What hasn't happened before is having his patient's response take off quite like this. To find an InfantSee provider in Louisiana, click here.
.
Senator David Heitmeier, O.D.
Awarded AOA Optometrist of the Year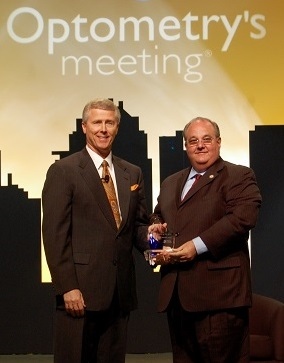 Seattle, WA, June 25, 2015---David Heitmeier, O.D., who serves as a Louisiana state senator, is the 2015 AOA Optometrist of the Year. Dr. Heitmeier graduated with honors from the University of Houston College of Optometry. He founded Heitmeier & Armani Medical and Surgical Eye Care Center, the Nautical Optical Laboratory in New Orleans, and two charity eye care clinics in south Louisiana.
Dr. Heitmeier became the first OD elected to serve in the Louisiana State Senate. Among his many legislative accomplishments and awards, he serves as Chair of the Senate Health & Welfare Committee and has authored numerous pieces of legislation, including legislation allowing optometrists to prescribe pharmaceutical contact lenses. Dr. Heitmeier is also known as a major driving force behind Louisiana's historic 2014 scope of practice bill that reinforced the power of the state board of optometry and allowed doctors of optometry to perform ophthalmic laser and lid surgeries, and administer injections. READ FULL STORY...
Optometry's Meeting, June 24-28, 2015, Seattle
The Optometry Association of Louisiana was well represented at this year's AOA Meeting. Here are just a few images captured from the 118th AOA Congress in Seattle:
Another Huge Convention in the Books
Baton Rouge, LA, June 8, 2015--- 190 Optometrists, 130 Paraoptometrics, and 26 Optometry Students jammed the Crowne Plaza Executive Center in Baton Rouge June 5-8, 2015 for another record setting convention! CE Tracks were offered for the ODs featuring traditional therapeutic continuing education, as well as an Advanced Procedures Course. Paras were able to attend hands on workshops, as well as classroom CE throughout the weekend. Below, are images from this year's huge meeting: