Welcome to the Optometry Association of Louisiana
The Optometry Association of Louisiana (OAL) is a group of state-licensed optometrists who deliver primary eyecare to citizens in all parts of Louisiana. Over 300 members strong, the organization provides continuing education programs for its doctors, sponsors programs to improve eyecare in Louisiana and abroad, and represents Louisiana nationally at optometric programs and events. The OAL also promotes legislation to insure all Louisiana citizens have access to quality eyecare.
What is a Doctor of Optometry?
Doctors of Optometry (O.D.'s) are the independent primary health care professionals for the eye. Optometrists examine, diagnose, treat, and manage diseases, injuries, and disorders of the visual system, the eye, and associated structures as well as identify related systemic conditions affecting the eye. (American Optometric Association) Doctors of Optometry also diagnose associated systemic conditions; prescribe oral and topical medications (e.g. antibiotics, antivirals, anti-inflammatories, & pain relievers, among others); perform minor surgical procedures on and around the eye; order and interpret blood work and neuro-imaging (such as MRI, CAT scan, etc.); offer vision therapy and vision rehabilitative services; fit contact lenses; and prescribe eyeglasses. For more information, please browse this site and visit the American Optometric Association's website at www.aoa.org.


Registration CLOSES May 29th for 2015 OAL Convention

Please register yourself and your staff for the June 5-7, 2015 OAL Convention at the Crowne Plaza, Baton Rouge. The new, single office registration system allows ODs to register themselves first, then, at checkout, to add additional attendees (paras, other ODs in the office) so as to create a "whole office" registration.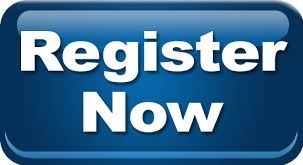 16 hrs OD TPA CE, this year we welcome Drs. Paul Karpecki, Carlo Pelino, Joe Pizzimenti, and Marcus Picollo


BRAND NEW Technology Symposium (1 hr OD GENERAL CE) from our Sponsors!

Full Paraoptometric Program, including NEW OAL-PS SPEAKERS M. Patrick Coleman, ABOC, COT (filling in for Lynn Lawrence) Beverly Roberts, CPOT and Dr. Robert Reed, OD.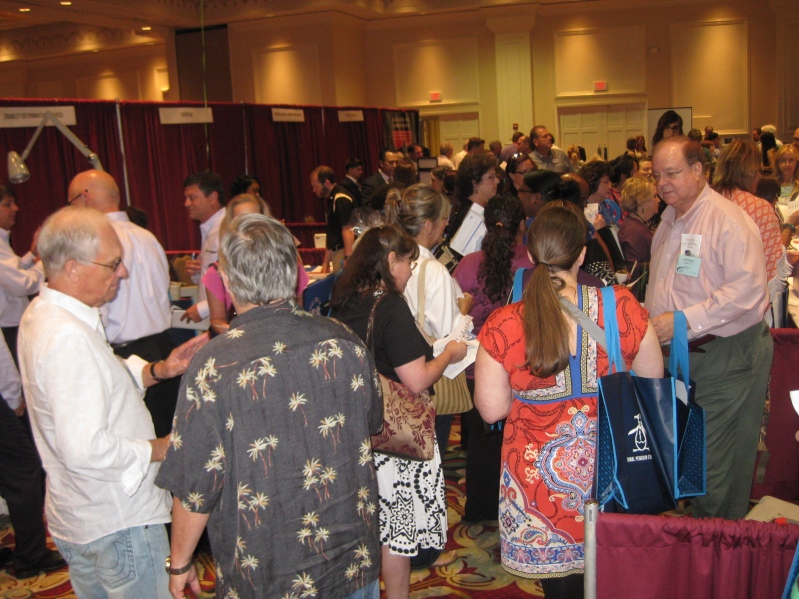 Students & Residents FREE REGISTRATION!
Network with other students, ODs, and colleagues in organized optometry from around the country.
Friday Evening Exhibit Hall
with food, drinks, and great prizes!
"The Eye Ball"
Saturday night dinner & dance for the whole family!

2015 Exhibitors Registered as of 5/22/15
Nidek
Ellman
VSP
Suppleyes
Carl Zeiss Vision
Optovue
Modern Optical
Bruder Healthcare
OcuSoft
Mid-Gulf Instruments
Quantel
Bayou Ophthalmics
Bio-Tissue
Lumenis
Cooper Vision
Gulf States Optical Labs
Solution Reach
Enhanced Medical Services
Shamir Insight
Allergan
Heidelberg Engineering
Marco
Europa International
Tru Form Optics
Clear Vision Optical
Disability Determinations
Diopsys, Inc
Vision Trends
Brown & Bigelow
(OAL Online Store)
IC Berlin America, LLC
OOGP
Bausch & Lomb Vision Care
Revolution EHR
Carl Zeiss Meditec
HOYA
REM Eyewear
J & J Vision Care (Vistakon)
Optical Distributors
Mid South Premier / Summit Optical
Alcon Vision Care
Essilor Labs
Annidis
Brown & Brown Insurance

The Future Looks Bright for Louisiana Optometry!
St Louis, MO, January 10, 2015--- Our state association is in good hands, thanks to excellent leadership! Several of our leaders, along with OAL Executive Director, Dr. James Sandefur, attended AOA's President's Council in St. Louis in January. This is a meeting of all of the Presidents, President Elects, and Executive Directors of the state associations and the AOA affiliates. Pictured below are Chris Wroten, OD (past president of the OAL & Moderator for the meeting), Cyndie Baker, OD (president elect of the OAL), and Dwayne Yeager, OD, FAAO (President of the OAL). Continuing participation in this meeting reflects the OAL & its leaderships' commitment to keep Optometry shining in Louisiana!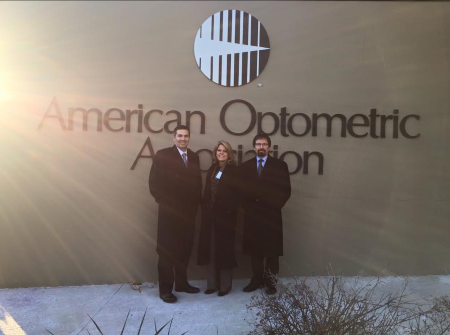 Award Named, Another Recognition for
Dr. James D. Sandefur
Dallas, Tx, November 8, 2014--- Dr. Sandefur, executive director of the OAL, is the inaugural recipient of the James D. Sandefur EyeCon Advocacy Award. The award was presented to Dr. Sandefur at the Texas Optometric Association's EyeCon meeting in Dallas on November 8, 2014. The award will be given, annually, at EyeCon, for legislative advocacy efforts to reward and encourage optometrists to follow Dr. Sandefur's lead in legislative activities. The award aims to recognize OD's from one of the traditional Southwest Council states of Arkansas, Colorado, New Mexico, Oklahoma, Texas, and Louisiana.
CONGRATULATIONS, DR. SANDEFUR!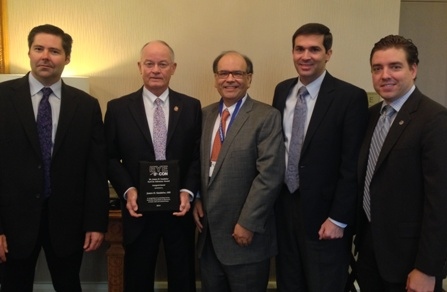 Above, Dr. James D. Sandefur is presented the inaugural James D. Sandefur EyeCon Advocacy Award. Pictured, from left are: Dr. Jerry Gerdes (OAL Past President & member of OAL Legislative Committee), Dr. Sandefur, Dr. Fred Farias (TOA President), Dr. Chris Wroten (OAL Past President & member of OAL Legislative Committee), & Dr. Kevin Kasovich (OAL Secretary-Treasurer).